Avatar Information
Report
Name:
Bori - Grumpy
Categories:
Clickable
Release Date:
Oct 10th 2005
Release Text:
If youre a grumpy sort, this new Bori avatar should be right up your alley.
Quick Guide:
View the pet lookup of any
Plushie Bori
that has 0 hit points, or is sick.
Minimum Estimated Cost:
n/a
| | |
| --- | --- |
| You need this avatar | |
Report Avatar Guide


To get this avatar you have to just go to the pet lookup of a Bori that is painted Plushie. We have found a few and have listed them here. If you know of any more or if any of them are no longer a Plushie Bori please contact us via the "Report" button and we will update it as soon as possible.

The following pet names are clickable. Click them to be taken to the pet lookup. You should see a message at the top of the page saying "You are now eligible to use 'Bori - Grumpy' as an avatar".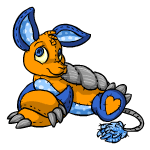 Avatar Information