Wheel Of Extravagance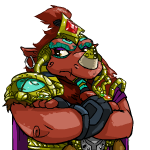 Cost 100,000np per spin, once per day
1. You win nothing
2. You win 25,000np.
3. A randon nerkmid, job coupon or secret lab map piece.
4. A paint brush. They tend to be high value such as zombie.
5. You win 50,000np.
6. The wheel of extravagance avatar.

7. The Wheel Of Extravagance background.

8. +5 points of a random statistic of your active pet (strength, health, defence, movement, intelligence)
9. You win 100,001np.
10. The Wheel Of Extravagance stamp.

11. +10 of a random statistic
12. A rarity 100 item.
** There is no longer an event when you get the avi but it will be on your avatar list. Thanks @Bones **
Edited by Muffin, 04 July 2014 - 12:58 AM.