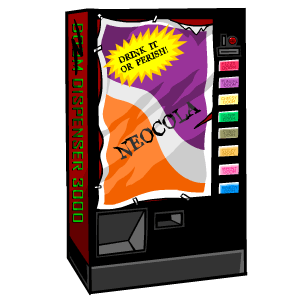 The Neocola Machine is located on the Neopian moon, Kreludor. With coins called Neocola Tokens, you can use the machine to have a chance to earn a few neopoints and an item. Even better is the prospect of getting a Transmorphing Potion off this.
So with these thoughts, I gave it a wizz!
Boring Statistics (!)
Net spending: 595,464
Neocola Tokens Bought: 100
43 x Red Neocola Token
31 x Blue Neocola Token
26 x Green Neocola Token
Price per token (average): 5,954
NP gained from using up all tokens: 11,426
Average NP gain from each token: 115
Prizes gained
The settings I used were completely random, apart from the amount of button presses, being a constant 42 (meaning of life and the universe, u jelly?).
Below is a list of the prizes I received from the tokens. They are arranged in numerical order and not in the order I got them.
1 x Griefer
1 x Dastardly Evil Fuzzle
2 x Fake Sloth Tattoo
3 x Wind Up Dr. Sloth Toy
3 x Plastic Ring of Sloth
5 x 1 Club Sloth Grundo T-Shirt
5 x Super Energy Blast Drink
7 x Sponge Grundo Sponge
7 x Gummy Baby Space Fungus
9 x Non-Sticky Sticky Hand
10 x Sloth Gummies
10 x Dented Can of Neocola
10 x Kreludan Grundo Slippers
13 x Fake Neocola Token on a String
15 x Lint Covered Peanut
Conclusion
Neocola tokens ARE NOT worth it. Sure, there's always a slight chance of getting a Trans potion, but that chance is puny. With my recent experiment of 100 tokens, I have only achieved two prizes of worth (being the Griefer (even if it STILL lost me NP) and Dastardly Evil Fuzzle). A 2% chance of something good is not worth it in my opinion, and I haven't even received a Trans potion either, so who knows? The rate for those may be less than 0.5%...
Please post below if you have gotten anything of worth from it and after using up how many tokens.
Edited by legacycm, 06 September 2011 - 06:49 PM.