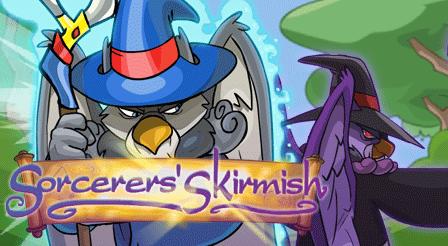 Sorcerers' Skirmish Game Guide



This is a fun little puzzle game that I find highly enjoyable and fairly easy, once you get the hang of things. The aim of the game is to defeat the enemy Leader Eyrie in as few moves as possible, and once you know the strategy, it really isn't that hard to do. I will warn you, however, that this will try your patience at the best of times. The problem is that, in order for this strategy to work, the game board must be set up in your favour. Since the configuration is completely random, it will take an awful lot of restarting before you get it right. So, with that in mind, let's get right to it.
First thing's first, you need to play on
easy
mode. Medium and hard don't give you any extra points and only complicate things needlessly.
So, you're going to use one of your Xweetoks. They can move 4 spaces at a time and they can also move over obstacles, thus making them ideal for our purposes. When the game begins, head directly for the blue defence potion. If the enemy gets there first, restart. You'll need it. If it takes you more than 2 turns to get the potion, restart. The more moves you use, the lower your eventual score will be.

So once you've got your potion, you need to make sure the enemy deployment is in your favour. If you see a Skeith or leader Eyrie near the Gelert, restart. You're going to need to defeat the Gelert, and if either the Skeith or Eyrie are nearby, they'll kill you instantly. You'll also need one of the enemy Kougras near the Gelert. What'll happen (hopefully) is this; Your Xwee picks up the blue potion, attacks and defeats the enemy Gelert. The enemy Kougra will then try to attack you, but that nifty defence potion you picked up earlier means that she'll kill herself instead. You are then free to go right for the leader Eyrie, at which point the level will end.

If your Xwee is attacked by anything but a Kougra, restart. That defence potion disappears after one attack, and you're gonna need it. If your Xwee dies, restart. You should try to take as few turns as possible to win, as each additional turn deducts possible points. Ideally you'd use 8, but if you take more than 12 turns to win the level, restart.

Note that if the enemy Xwee kills itself on one of your high-defence units, you get bonus points, yay!

For level one, try to get between 2550-2650. If you get 2450 you can still advance and hope you get more points on one of the next two levels but you can't always count on that. For level 2, aim to get above 5200 points, and when you finish the game, and if everything has gone to plan, you should have between 7450-7850 points.

Keep in mind that you will need to restart a lot of times. If the first level goes well but you enter the second and there's a Skeith next to the enemy Gelert, you will still need to restart, because there's no way your Xwee can survive.

So, in summary:
1. Use the Xwee closest to the blue potion, go pick it up.
2. Attack the Gelert.
3. Let the enemy Kougra kill herself on your Xwee.
4. Attack the leader Eyrie to finish the level.

Restart if:
1. The blue potion is more than 3 moves away.
2. Your Xwee is attacked by a non-Kougra sorcerer.
3. The enemy gets the blue potion.
4. There is a Skeith or Eyrie near the Gelert.
5. There is no enemy Kougra near the Gelert.
6. Your Xwee dies.

You'll get to know the game intimately if you try for the trophy. Also, just in case you don't know, this trophy is easiest to gain on the 1st of the month because of the high-score table reset, but trophies aren't awarded until the following midnight.


Questions, comments and suggestions are all welcome.
Good luck getting your trophy!
Edited by Foxer, 10 January 2012 - 06:29 PM.