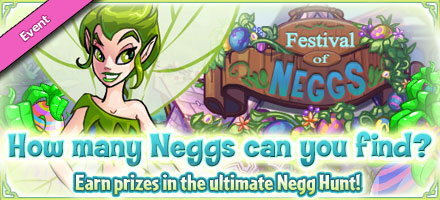 The Festival of Neggs is here as of today. I have never done this event before (I have heard that it sucks) but I figured I'd give it a shot this year. So far it seems kind of like the Masks of Dread only much more lengthy.

First you go to the Festival of Neggs page to read the clues, then you look around in the world that they're referencing for neggs.

Every day Kari, The Negg Faerie will ask you to find

one Patterned Plastic Negg

in a certain part of Neopia. She will give you riddles to use as clues to know where to look for the negg.
"The Real Negg Faerie" (The Yurble Janitor dressed as a faerie) will ask you to find a

Mini Patterned Plastic Negg

for him. He has a personal vendetta against Kari it seems. This part is optional.
There will also be

10 bonus Plain Plastic Neggs

per day hidden around Neopia that you can find. If you collect all 10 and turn them in before the end of the day, you will receive a bonus prize. This is also optional.
There will likely be an avatar awarded for turning in all Patterned Plastic Neggs to Kari before the next day's clue is given.
You can go back and find the Main/Mini Neggs from previous days, but you cannot go back and find the Plain Plastic Neggs if you missed the day.
The NC Side
Of course there is a NC Mall side to this event.

You can purchase these nifty Negg Enlargers to enlarge any of the mini neggs you find. Each one will give you a NC item prize. You have to use a new enlarger for every mini plastic egg. They cost 125 NC.
Day 16
April 18

Clue:
Browse through some rubbish
In this provincial kingdom
Where veggies abound!
Meridell!
http://www.neocodex.us/forum/topic/113450-festival-of-neggs-y14/page__view__findpost__p__1574985

Mini Negg NC Prize


Ferocious Negg Bites


Day 15
April 17

Day 14
April 16



Day 13
April 15


Day 12
April 14


Day 11
April 13



Day 10
April 12


Day 9
April 11


Day 8
April 10


Day 7
April 9

Day 6
April 8


Day 5
April 7


Day 4
April 6
Day 3
April 5



Day 2
April 4



Day 1
April 2-3

Edited by nymh, 18 April 2012 - 07:30 AM.