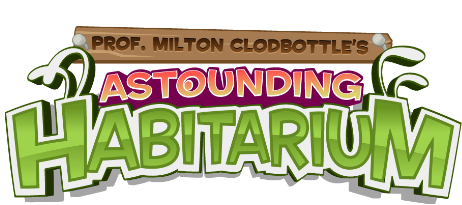 - click to play -

As you probably know, it's incredibly easy to make 100k per day with a Level 50 Habitarium. This guide will show you the fastest method to getting there.

If you haven't already, please take a look at my guide on a low resolution Habitarium. It works a treat, but keep in mind that the game is still sometimes prone to lag.
[★] Contents

   I. Beginning
   II. Boxes
          Boxed Storage Units
          Boxed Petpetpets
   III. Upgrading
   IV. Purple Gems
   V. For Future Levels
   VI. Hints
   VII. Warnings
   VIII. Lock Outs
   IX. Glossary


[★] The Beginning

Start your game, and pass the tutorial steps - these are mandatory, and will also help you become familiar with the tools. What you need to do first, is get your nesters and workers harvesting resources. Simply click on and drag your Petpetpets to the following resources: mud, wood, and stone. You do not need water, grass, or pollen at all for this guide - they're a waste of the time that you could be using to gather the productive resources that you'll need for buildings.




Allow the game to run for a couple of hours. When you return, you should have a decent amount of resources to build a nest - depending on how many workers you have. Purchase a nest by clicking on the big, blue bag. To place it in your Habitarium, click on the inventory button (the backpack). Select the nest, and place it anywhere in your Habitarium. Pick up a soldier or two, and place them in front of the nest tools you've just put out. They'll begin the construction.




Wonderful, a nest! These are important: without them, you cannot breed your nesters. After a week (and sometimes during a pest invasion), your Petpetpets will die and you'll be required to hatch the eggs that the previous ones have laid.
Place a nester into the nest. Creating an egg will take around three hours.




Once your nester has finished creating an egg, pick it back up and place it anywhere in the Habitarium. Click on the egg: in the little bubble in the bottom center of the screen, it will tell you what species it is, and whether it's a worker, soldier, or nester. Repeat the above steps until you have 13 workers, 3 nesters, and 3 soldiers. You should be level 11 by the time you have that many.
If your nester didn't give you the type of Petpetpet you need (a soldier instead of a worker, for example), don't panic. Simply put the egg in your inventory (when you click the egg, click the little box-looking icon in the bottom left of the bubble), and breed the nester until you get what you want.
If you head over to the Habitarium board, people are always willing to gift buildings and such - if you want to freeload a nest, ask politely on one of the gifting boards. That way, you'll have extra resources later.
[★] Boxes

With 13 workers, you've probably noticed that there's a lot of lag as they're walking to and from the storage units. It also wastes time you could be using gathering resources.
There are two methods you can use here - you can either box in your storage units, or you can box in your Petpetpets. I prefer the latter, but I've included both methods anyway.
   ☆ Boxed Storage Units


Basically, what you're doing is blocking off access to your storage units. Because the Petpetpets can't get to them, there's no need for them to even bother walking all that distance - as well as that, any resources will be sent to the storages automatically, so you don't have to worry about how they're going to store everything

Simply purchase a few decorations, and insert them wherever there's an opening to the storage units. Keep in mind that Petpetpets can still creep into the storage units from the side, so you'll need to block off all four sides. I find that cramming them into a corner works best, because you'll need less decorations.


   ☆ Boxed Petpetpets


I find this method better because after each "cycle", Petpetpets don't wander around - they're stuck in one position because there's no room to move around.




See which method you like best, and stick to it. It saves so much time, and you'll receive a lot less lag this way.
[★] Upgrading

If you don't do this, it's going to take a long time to reach level 50. Keep in mind that you'll need to be at least level 17 to do your first upgrade, and level 40 to do your second upgrade.
Buy a bunch of nests, or freeload a few from the Habitarium board. Build them, and upgrade them - you can do this by clicking the nest, and then clicking the little arrow in the bottom left of the center bubble. You'll have just received 200 experience points for building a nest, and you'll receive an additional 300 experience points for upgrading. At level 40, when you can upgrade again, you'll be making an easy 800 experience points per nest.
Delete the nests when you're done, ready to create room for new ones.
[★] Purple Gems

The purple gems are obtainable at level 50 only, and these are what yield the neopoints that many people seem to earn. You'll receive one gem for every 1,000 experience points you get, and each gem is worth 500np.
Yes, I can hear you thinking "how the hell do you make 100k a day when the gems are only worth 500np each?" - the only way is to leave your Habitarium running overnight.




It sucks, but it brings in the money.
[★] For Future Levels

This is a neat hint I picked up on the boards a few months ago. TNT will eventually come out with new levels, and you don't want to be out of resources when that time comes - you'll receive neopoints for increasing your level, and you'll get to the purple gem stage sooner.

Upgrade all of your storage units to level 3, and click on them to see which ones are maxed out with stone, mud, and wood. Choose a colour ink, and paint it that colour.
Move that storage unit to your inventory, and replace it with an empty one. When you view your inventory, you can easily distinguish which storage units are full, and which ones are not - when you move a full unit back into your Habitarium board, it will remain full, meaning you won't lose your resources when you switch between your board and inventory. This will be very useful when you need to mass build and upgrade nests in the future.
[★] Hints

1. Make Neofriends for this game. Along the bottom of the game, you'll see a panel containing your Neofriends list - if you click the hammer icon to help them, you'll receive 50 experience points per one. This is helpful for those earlier levels.

2. If you can get free nests, houses, or storage units, take that opportunity. They'll help you to level up. Don't forget your manners either.

3. Discarding eggs will give you 200 experience points each - if you have a stash of eggs that you've harvested, discard them when you're in need of experience.

4. Don't ignore pests. Pests are those little, blue, angry-looking Petpetpets that randomly appear (usually when you leave food lying around). For every one your soldiers defeat, you'll receive a red gem which is worth 30 experience points.

5. Like I said before, don't waste your workers on the water, grass, and pollen resources. Yes, these are used to purchase food, but you don't actually need food. If your Petpetpets are hungry, simply put them into one of your houses for a little bit. They'll be good as new.

6. Don't waste resources on barracks and hospitals. They're a lot more expensive than houses, and don't do much different. You can use the additional resources to earn extra experience from nests.


7. Try to keep your resource tiles in good condition. Pests can ruin these, and sometimes they'll become damaged by themselves - get friends to repair them for you as often as possible.

8. You can earn extra experience by fixing damaged buildings, so don't discard them if you see them looking a bit shabby.

9. It's better to have more workers than soldiers and nesters. Although during higher levels nesters can each make 200 experience points per hour, workers can make up to thousands. Soldiers might not manage anything at all.

10. Always take care of your Petpetpets. If they're tired or hungry, let them rest - they'll get more work done when they're rested, and this will lead to blue gems which yield more experience.


[★] Warnings

1. Don't ever refresh your Habitarium when you have a lot of purple gems along your Habitarium board. This can cause a lock out (details on lock outs below).

2. Don't exceed 60 pages of items in your inventory. Discard anything you don't need, because 60+ pages will also cause a lock out.

3. It has been said that NeoCash ink can also cause lock outs - stick to regular ink, because that seems to be fine.

4. Try to use as little decorations and stuff as possible. When purple gems accumulate, they never overlap - meaning that you'll never get two on a single space, unlike the red gems and blue gems. If you run out of space, you're going to miss out on additional gems because there'll be nowhere for them to go.


[★] Lock Outs

This is every serious Habitarium player's worst nightmare - the lock out.
A lock out, like the name, basically locks you out of your game. You'll either get a completely blank page when you try to load your game, or the "loading" page will repeat forever.
Currently, TNT don't have a solution for this - and it has been going on for months. If you're aiming for 100k a day, you need to take precautions to ensure that you won't become locked out.

Don't refresh your page when you have a lot of purple gems on your board.
I don't think anyone can verify what would be considered "a lot" in this case - the best thing to do is just not to refresh at all when you have gems on your board. The same goes for if you're merely restarting your computer - collect your gems first!
I've refreshed with perhaps five or six gems on my screen, but for all we know, a glitch could occur sooner or later and turn that into a lock out.

Don't exceed 60 pages of inventory items.
Eggs can really cause some trouble here - especially if you have a habit of harvesting every egg you get hold of. Check your page count daily. It doesn't take long, and it can really save your Habitarium.

Avoid NeoCash ink.
Yeah, they're pretty, but they're not a good idea. I've used Neocash ink with no troubles before, but when I read about this on the boards, I instantly changed to default colours. Some NeoCash inks are a lot more animated than others, for example, buildings in pirate ink all have a waving flag on them - this puts stress on your game.





As far as know, NeoCash decorations are fine - if you want that fancy chocolate fountain, go for it. I'd advise against buying the NeoCash backgrounds though, because they lag your game to a ridiculous extent.

[★] Glossary

Barracks:   This is like a house, but exclusive to your soldiers. It will heal them faster than a house or a hospital, but it's still a waste of resources because it's so expensive. These can be built with mud, stone, and wood.
Blue Gem:   When a Petpetpet dies, it leaves behind a big, blue gem with a face on it. The better the Petpetpet, the more experience the blue gem will yield.
Box:   The term used for trapping your Petpetpets in a small space to prevent them from moving around the resource tiles too much, or blocking off your storage units.
Egg:   Your nesters will create one of these when they're put into a nest.
Hospitals: These are a bit of a waste of resources, because they do what a house does for a higher price. They can be built with mud, stone, and wood.
Houses:   These are used to heal, feed, and rest your Petpetpets. They can be built with mud, stone, and wood.
Ink:   This can be used to change the colour of your buildings and Petpetpets.
Nest:   These are used by nesters to create eggs.
Nester:   The type of Petpetpet that lays eggs. They also fight pests, but only if they're attacked first.
Pests:   The blue Petpetpets which damage buildings and eat your food. They leave behind a red gem when defeated.
Petpetpet:   The little insects in your game.
Purple Gem:   Gems available at level 50, which require 1,000 experience points to make and yield 500np.
Red Gem:   These are left behind after a pest has been defeated. They disappear if you leave your game for too long, or refresh the page, and yield 30 experience points.
Resources:   These yield the materials you need to purchase things in the Habitarium store. There are six in total: mud, wood, stone, pollen, grass, and water.
Storage:   These units are used to store any resources that you collect.
Soldier:   These fight pests, build new structures, and repair damaged ones.
Upgrade:   This will add additional features to your buildings, such as additional space in your houses - upgrading Petpetpets will also cause them to work faster
Worker:   These gather resources from your resource tiles, build new structures, and repair damaged ones.