This Guide is for Gourmet Club, Maybe your Neopet can get a trohy
What is Gourment Food?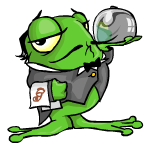 Gourment food is any food item that has rarity 90 - 100.
Gourment Club Trophies
Gourment Club also got a high score table:

First to Third place
Gold Trophy

Fourth to Eighth place
Silver Trophy

Ninth to Seventeenth place
Bronze Trophy

For Top 200 you can get "
Hononary Member Award
"
He
re The Guid
e You Can Follow
Begin
:
1. Select Your Active Neopet.
2. Go to
http://www.neopets.c...rmet_club.phtml
then click
here.
3. On food eaten page, right click on the page and select ' View Page Source'.
4. On page source page Click Ctrl+A to 'Select All' and Ctrl+C 'Copy' the code.
5. Go to
http://items.jellyneo.net/gourmet/
then Ctrl+V 'Paste' the code inside the box.
6. Choose your 'Sort by:' then click 'Show me what I have to eat!'.
7. Done, here the list of food your pet has to eat.
8. Use the list to search in Search Wizard, Auction or Trading Post.
9. Good Luck.
Other Tips:
* Make sure you have aaaa lot lot lot NP.
I've heard changing your language and trying again will get a stubborn neopet to eat a food.
*Clear cookies to change back to main language.
The best thing to do is to wait 'till the gets really hungry (dying?) that way you can feed him ~1 food/h
Edited by sako, 25 June 2016 - 09:44 AM.