$Wannabe Tycoons$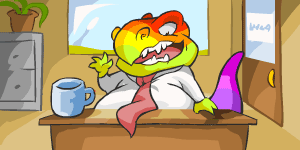 I am creating this 1 week guide (pictures and links being added) to show how to get a bronze trophy and that $$$ tycoon avatar. Yep, the first time playing PT has a steep learning curve. But once you understand how the parts flow, its really easy because its repetitive. If you play the last 6 days of the month, its doable and not a complete time black hole.

My guide supplements the gold standard guides
~MapleHood ~sungminty ~GrundyTycoon
1. Start a full 6 days before the end of the month
The only rule is
Spoiler
2. Your "Work Day" is 8 hours.
Spoiler
3. Pay rents:
Spoiler
4. Get your store ready to sell
Spoiler
5. A bit about updates
There are 2 different updates in PT. What the two updates have in common is they happen each hour for the 8 hours of your "work day"
:XX is the general update time. Your factory and store update (work/sell) is at the same time FOR EVERYONE and is currently about :38 you can find this info on the PT Game Board (link missing).
YOUR Raw Material prices update separately and at different time for each player.
Spoiler
6. When to buy
Spoiler
7. How many to buy
Remember you need to save money for workers,

exactly 5550 NP

, shipping is 289 (?) per 100 plushies, and each update for the one mandatory manager. (pic and $)
Dont buy materials to "save" for later. If you make 6 only buy what you need for those 6, same for 8.
Spoiler
8. Building sets of plushies
Spoiler
9. Hire Workers
Workers only work during "work hours". You hire them before :XX, general update, and FIRE them after (but before the next :XX because they will continue to work, aka burn through you COH, even if there are no jobs in your factory.
Spoiler
10. Warehouse, Ship and Store
Spoiler
11. Diddle and Repeat
Spoiler
Fighting major lag
I'll have to finish images and links later....
Edited by neobo, 12 February 2017 - 10:00 PM.