Theme: Pick the more unpopular choice for most of the questions.
CONGRATULATIONS TO THE TOP THREE FOUR WINNERS
Due to an unforseen circumstance, a top 4 has been selected. The reason is clear in the spreadsheet.
1. @Trapezeo
2. @Voodoo
3. @Swim
4. @UnicornOfLuv
@Trapezeo Please state immediately if you would like to host the next random contest or allow anyone else to host as well as what prize you would like. Obey the rules listed below. Obey.
Award:
All four of you earned the Random Contest award.
Credit to @Liesa
Scoring and Placements:
Congratulations to everyone entered. Those who were tied below the top four were ranked randomly.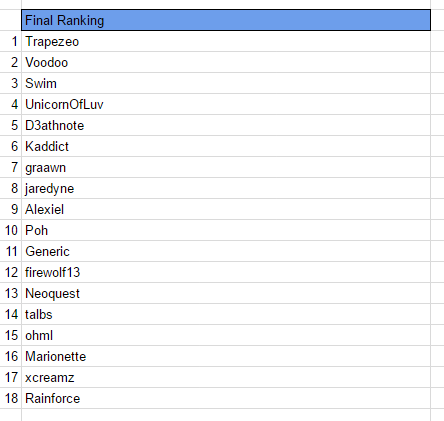 All the score information can be accessed here. But it's password protected...
The Answers
Each question had a total of 18 entries. The bolded is the less popular answer. The number in parenthesis is the number of votes. If a tie (9:9 votes), the entire question will be struck through.
Prize Redemption Rules:
1. The first winner picks one prize from the pool or opt to skip them. Then, they tag the the second place winner to pick from the remaining prizes. This goes on until the last person.
2. A winner has 3 days after being tagged by the previous winner to post here what prize to claim.
3. The winner also MUST PM me to redeem them within 3 days of being tagged by the last person. Communication for redeeming prizes is the initiative of the winner. After the time period with a failure to do so, the person will be skipped with no second chance.
Prizes:

The prizes are not assigned to a specific placement. The first place will choose out of the three, second will chose among the two remaining, and third will receive what is left.


Bag of Healing Dust


Shell with 10m pure Neopoints


New Years in Mystery Island Background
Password to access the Random Contest #12 Google Sheet, which shows the comprehensive point system and the two tiebreakers that took place.
The recipient can do anything with that information. Knowledge is power and fear.
Thanks for playing!