Hey guys, it's been a while since I've been back in the coding scene. I've noticed my old AoB scanner has grown quite popular so due to it being outdated, I've decided to remake the entire project from scratch and giving it a new name. This new project is many times better, faster and more efficient. Enjoy.
Screenshot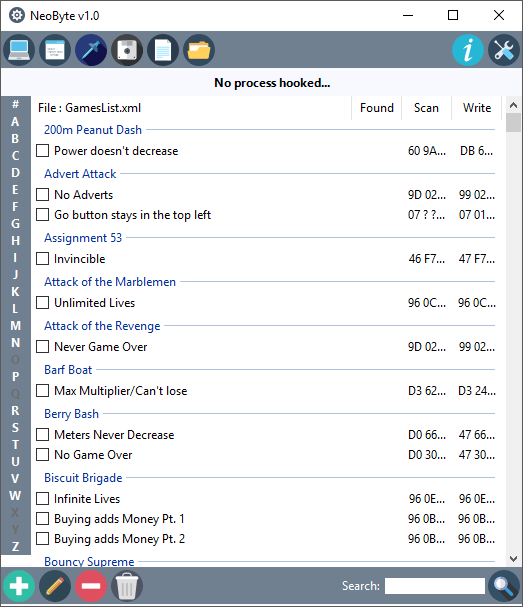 Program features
- Automatically detects firefox and chrome's flash process
- Saving/Loading AoB efficiently from xml files
- Insanely fast AoB scans
- Wildcard support (use one question mark '?' for each byte)
- Convenient searching tools
- Recommended for firefox or chrome
- More dynamic so it will last a lot longer than the old scanner
Convenient ToolsHow To Use
How To Add An Entry
Additional Notes
- The GamesList.xml file included has many outdated AoB's. It is based off Master List 1.4.txt for my old scanner. Unfortunately, I do not have the time to update them all. If someone wants to create a new thread with an updated list for this scanner please do so.
- Please let me know if you run into any issues while using this version. Thanks
Requirements
Microsoft .NET Framework 4.5.2
Virus Scans
Virus Total (32-bit)
Virus Total (64-bit)
Download
NeoByte v1.2 (32-bit)
NeoByte v1.2 (64-bit)
Edited by GATX, 10 April 2017 - 09:58 PM.