A Neopets-Related Puzzle That Will Make You Rage Quit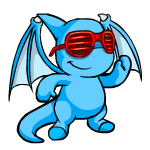 Hi. My name is Keil and I enjoy seeing people squirm. It has been a while. I've came across some shocking news and decided to put my personal BD set on the line for this puzzle. It's a simple crossword puzzle and the theme is Neopets. It should be easy. You know, that easy. Like that time you were stressing to the point of panic over something that you were able to accomplish in 5 minutes and afterwards, found yourself foolish for worrying about it to the extent that you did. Sometimes it's easier just to do shit than putting it on hold. Like today. It was like any other day, except it was raining and my friend was panicking after finding out his tests for syphilis were positive. I didn't care for the friend so I decided to spend my Saturday doing whatever I want. Instead of recklessly doing whatever, I had to check emails if anything had to be done before Monday steamrolls me because I am a semi-responsible and semi-functional adult-child. In a school email, a professor requests to speak to me on the phone immediately on a Saturday morning and even gives me their personal cell phone number. The email made it seem very urgent and I was honestly scared. This was the professor whose class I slacked in because at this point in my academic career, I was like "it's whateva, Jesus take the wheel of the steamboat floating down the lazy river." But then again, anxiety into clawed my chest like a bitch. The professor doesn't have any grounds to fail me, right? I was laughing without a care in the world until I remembered. Fuck. There was that time I whistle blown. Shit. Shit. Shit. Fuck. My life is ruined. There's no turning back from this. Like, I wasted a hundred thousand dollars on this shit. Damn. Motherfuck (thanks @Coops for making me say motherfuck in real life for a year now). I contemplated snorting a line, but then I was like: fuck it all. It doesn't matter if I blow this off because the result will be the same in the end. So I picked up my cell and called my professor. She borderline screamed into the phone when asking who called her. When I said it was me, her voice softened and asked me what to order for the department party from a local bakery. Turns out, it was her carelessness that she didn't order food from campus dining early enough to make an order. The only reason why she emailed me was because she remembered that one time I bought donuts and muffins from that bakery and everyone loved it. The only reason why she didn't ask for all of this in the email is because she is old and hates email. Plus it's easier to get all this information through phone than multiple email correspondences. So I told everything I knew about the bakery and what to get to her and she hung up without saying goodbye. She's like that. I want to say she is autistic, but it would make more sense to say that she is a jerk. Especially for unknowingly putting me through all this stress for nothing. At this point, I read through the rest of my unread emails and it's all just school wide emails about upcoming events and a blood drive. Knowing full well that I have nothing to worry about for the rest of the weekend, I relaxed the way the world cursed me with: play neopets. I checked the Festival of Neggs page and it said, "Throw in a few coins into the water and you may just get what you wish for." And there I was: What the motherfuck? (fuck you, Coops). Click. Click. Click. And there it was: at the Wishing Well. That was easy. It was that easy.
Um.
Here's a puzzle.
Across
Down
Clarifications
1. None of the images are stretched, screwed, inverted, rotated, flipped, tinted, or opaqued from their original source. They are all screenshots I took with the gyazo app and uploaded to imgur. If the size of the image is different from usual, it may be just a difference of resolution or zoom of the computer to which I have no clue how to fix.
2. Refer to the pages they are found on as the answers to be inputted.
3. Browse Neopets in English to find some of the answers, just in case it wasn't already clear in some of the clues.
Rules
1. PM me your answers in the form of listing all 13 answers or providing an image with all the boxes filled in correctly.
2. You must be the first person to have 13 clues answered correctly to win in a manner listed above.
3. You can discuss answers here or anywhere. I don't care.
4. The deadline for this puzzle is
April 30, 2017 11:59 PM NST
.
5. If by any chance (which I doubt) that someone 100% solves this puzzle before then, I'll update this thread and make some cheap congratulations note.
6. I will not post the answers, regardless if someone solves this puzzle or not.
Prize
Mysterious BD Set Worth at least 100m NP*
*Contains 2 Constant Weapons, 2 Shields, a 100% Freezer, a 100% Damage Blocker, a Full Healer, and a Bomb.
Exact battle set is hidden to protect winner.
Good Luck