Customization Contest #56
Theme: The Infamous Dumpster Fire Free-for-All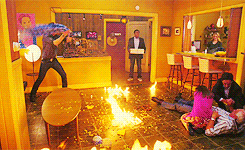 Do whatever the fucking theme you want and follow the goddamn rules.
Congratulations to the Co-Winners!
Placement is submission order. A poll would have been made, but both participants already have the award. Give them compliments instead of votes because these are nicely crafted.
First Place:
Helena
First Place:
Special Rule: Both winners must private message me what prize they want and where to send it within the two (2) days of this topic posted. Failure to do so will result in relinquishing their prize.

Prizes
The top three each selects one (1) of the following customization items as their prize. Any one of them. Don't worry about what the other person pucks,







MiniMME4-S2: Cloud of Ghostly Orbs
MiniMME6-S2: Golden Outdoor Background
MiniMME18-S2a: Galactic Traveller Wig
MME18-S4a: Gothic Blossoms Foreground
MME22-B: Glorious Castlegrounds Background
MME2-S1: Mystical Rain Shower
MME5-B1: Mystical Stone Lightning Sword
Award
The first place winner will receive this exclusive award: