Codex Conundrum #4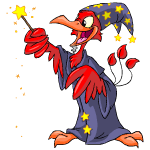 It's the forsaken Lenny Conundrum except now only available to Codexians. Remember the times when you sat staring at the Lenny Conundrum contest page, hoping, just hoping some form of divinity blesses you with an epiphany that answers a question from a children's pet site. It was of the darkest times.
It's exactly like that, except on Codex.
Starts: Now
Deadline: April 10 2019 11:59 PM Neopets Standard Time
Rules:
1. Post your answer here. The first correct guess wins.
2. You have unlimited guesses.
3. The winner has only three (3) days within me announcing the winner to PM me where to send the prize.
4. I will inconsistently or may not at all confirm wrong answers.
5. The contest ends with either the deadline passing or someone solving the puzzle.
6. Only the first person who correctly guesses the answer correctly wins the prize.
7. If no one guesses the answer correctly, I'll post the answer, but may not post the solution to getting the answer.
Prize:
Blaze, Potion of Healing and Hubrid Nox Memorial Shield
The Puzzle:
You got this. If not, sometimes you just need to cut yourself some slack and fold.
The Dead Lady's House Talks
Download and print the puzzle here.
Hint: Not Neopets-Related.
Good luck.