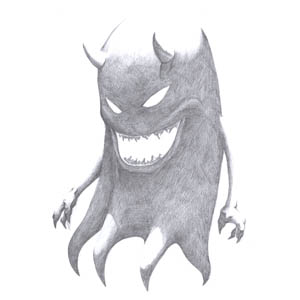 Trophy Earned

Quick Overview
Difficulty:
21
Starting out Hp:
22
Hp gain:
2
Steal:
Level 2 Bubble Beam
Get him as a challenger:
You receive him as a challenger when he steals something from you. A good way to get him as a challenger besides using a refresher is too spin the
Wheel Of Excitement
which gives a chance for one of your items to be stolen by him.
Equipment
Attack Fork
- Multiple use, does 4.6 icons (2 water, 1 dark 1.6 physical), blocks 1 fire
Level 2 Bubble Beam
- Multiple use, does 2 air, 1 or 2 physical and blocks nothing. This is the item you steal and is worthless.
Pant Devil Claw
- Multiple use, Says that it steals one of your items but it doesn't
Rainbow Frost Cannon
- Semi-Fragile, does 3.3 water icons and has roughly a 17.5% chance to freeze
Rainbow Gun
- Multiple use does 1 light and possibly 1 physical, blocks 1 darkness
Small Metal Shield
- Multiple use, does no icons, blocks 1 fire 1 earth 1 air and 1 water
Supersize!
- Multiple use, does 1.33 physical damage, blocks 1 physical damage
Rod Of Supernova
- Multiple use, Does 1 fire 2 light 1 physical and potentially 1 more fire+physical, blocks 1 fire and potentially 1 more fire and either all or none of the dark, heals 40 and gives 3 supernovas.
Supernova
- Single use, does 3 light and 3 fire, blocks nothing and heals up to 15 hp
How To Beat
The Pant Devil is fairly weak with the exception of his Rod of Supernova which is a deadly item. He is very old so all his other equipment is extremely weak in comparison of the other equipment out there. To beat him I'd recommend have 7 (ideally 13 strength) and over 10 hitpoints. You don't need much to beat him, 2 scarab rings 2 Mud Mixtures, Blue Scorchystone and 2 Snow Mudballs (can be replaced with Sand Snowballs if you can't afford them). Since he doesn't have much offense you don't need any weapons to counter his
First turn you should use 1 mudball and 1 mud mixture. If at anytime you get frozen I'd restart the fight if you have under 20 hitpoints. Second turn depending on how much hitpoints you have left you should use a mud mixture and another mudball or a mudball and your blue scorchystone if you're low on hitpoints (under 5). So far you should've done 30 icons or 19 which means he's dead or close to being dead. The next turn use your scarab rings and hope for the best
. If it doesn't work out then redo the fight (Bubbling Healing Goo or the faerie springs will heal you up nicely)
You've probably noticed I've left out the stance you should adjust your stance according to what faerie abilities you have (burrow and sink being the best) and how much hitpoints you have left. If you have a suggestion I'd love to hear it.
Edited by Mr. Hobo, 17 June 2007 - 10:23 PM.