This guide is out of date
Ok I saw that somebody asked for this and everyone wanted to know just how much the separate pieces of the lab map go for. Well is a quick simple breakdown of all of the 9 pieces of the map. The number on the picture will correspond with the number below it, which will tell you the price of that particular piece. Also due to the recent inflation some pieces may now be UB and you would have to ge them form the TP or the auctions.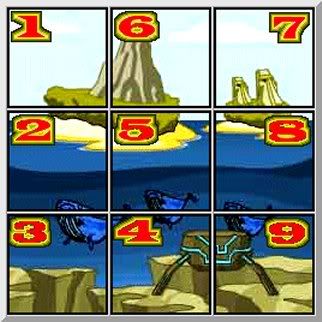 #1- 60k-65k

#2- 60k-70k

#3- 60k-65k

#4- UB 110k-115k on TP

#5- 45k-55k

#6- 55k-65k

#7- 32k-37k (they are only low for the next day or so as Tarla gave away quite a few)

#8- 90k-100k

#9- UB 250k-275k EACH!!!
That's all of them. I will try to update this guide as much as posable.
Credits:
~Myself(Rikku) I wrote this all by myself even though it's not much of a guide please don't post this anywhere else.
~Mastachew for finding me prices for the UB pieces! Thanks alot man!
Last Updated: August 1st, 2007
Edited by Sunscorch, 28 February 2008 - 05:29 PM.