Step one: Play the part



Make a name for yourself, If you are known in the community of restockers on normal neopets it is less suspicious for you to be able to restock well, a good place to do this is the RS & chat boards on either the battledome or avatar boards, learn names and make friends .




Learn how to restock, If you do periods of legit restocking while your autobuyer is off it will make the whole sharade alot more believable, mainly because you can couple this with other activities, like RS & Chat boards and training your pet. Not only this but it also maximises your profit, as you can make money legitly restocking aswell

Create a petpage, Usually with screenshots of your best buys, alot of autobuyers can take HTML screenshots these days, and some of your legit buys aswell, this can work well as evidence that you are legit, usually helps you not getting frozen, and helps you get unfrozen if you get frozen.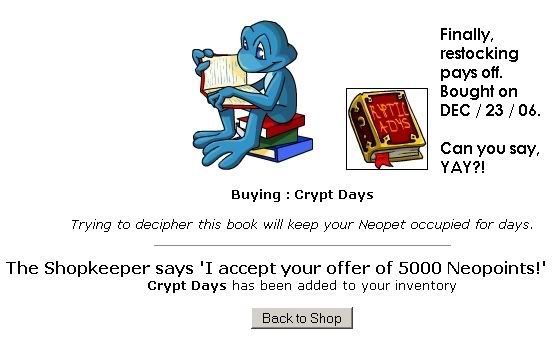 Step two: Efficient use



Don't overdo it, Legit restockers don't restock for 800 hours straight, Be realistic with your timings. The average human needs a toilet break atleast once every 4 hours and thats if they don't get bored with constantly refreshing a page, most autobuyers these days have a pause feature on them, so use it. I tend to do an hours restocking and then a two hour break, or two hours then a four hour break.




Manage your time, If you are a legit restocker aswell as an autobuyer user you may have noticed that shops restock alot more often when more people are on neopets (Typically 6 pm NST) This is when you most need your autobuyer, so logically it would be better to use it then, correct? Yes, but only in short bursts, TNT are on the look out for autobuyers around that time more then usual, so be wary.





NEVER RUN YOUR AUTOBUYER OVERNIGHT OR WHILE YOU ARE AT SCHOOL/WORK
This is how TNT gets most people, they pay constant attention to your online times, and what time zone your in, restocking from 12 am - 8 am is not a done thing




Variety, don't just restock, play games, train your pet and do dailies, the more the merrier and the more, the more legit



Step 3: Preparation



Make evidence of your legitness, This is in preparation for the eventuality (If you don't follow the guide well ) of being frozen, your petpage of screenshots can make good evidence, aswell as claims from the neofriends that you made, but the utmost form of evidence, is a video of you restocking legitly



Try and go completely legit, Restocking when our autobuyer is off not only adds legitness to your account, it makes you get better at restocking, eventually you may get good enough to go completely legit, which ultimately I find far better then autobuying, and hopefully you will to.

Credits: Me (Metigue / D3ath t0 nubs)
Happy Autobuying

Rep me if it helped
Edited by D3ath t0 nubs, 06 September 2009 - 08:05 AM.