Ok, so you've downloaded Abrosia (or some other, less awesome ABer), and you want to start restocking. Well, luckily for you, Abrosia is ready right out of the box, just login and click start!
But maybe...just maybe you want a little more control. Perhaps you have a specific shop, like Toys or Grooming, or maybe you just want to target a certain shop. For that you will want to make a restock list. How do you make a restock list? Well, it's pretty simple!
First, head over to Neocodex's Item Database, and select the Restock Lists tab. Over on the right, select "Simple" mode. Now select a shop, such as the Grooming Parlor, and set to search by Profit. I set my profit margin at 5000 NP to lessen the chance of restocking something that loses me money, but use your own common sense.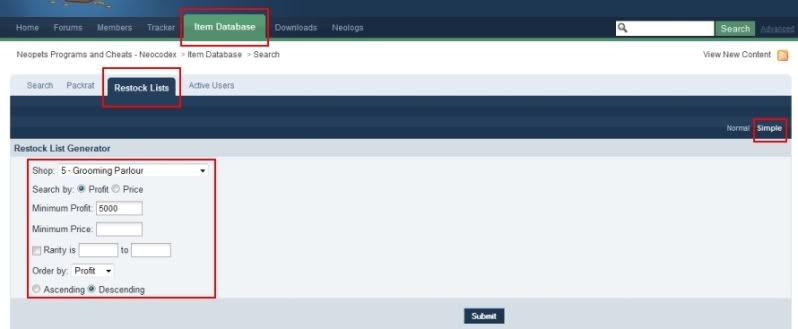 Now, his search and you'll get a list of items that restock in Grooming that sell for at least 5000 NP than their restock price.
Select all the items with your mouse and copy them into a text file. I use Notepad, but you can use any word processig software, just be sure to save the list as a .txt file.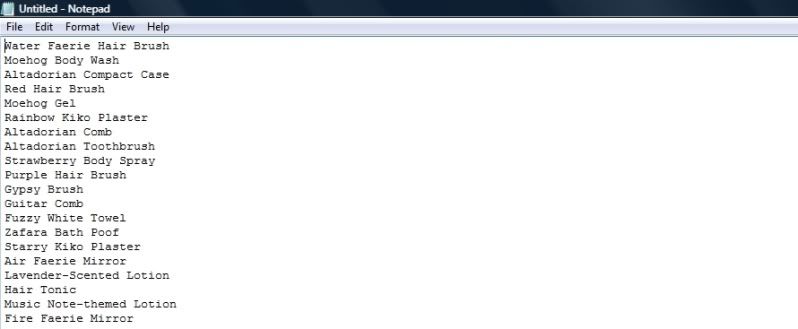 Then go into Abrosia and go to Settings > Program Settings > Main Shop Settings. Click "Load a Manual Shop List". Now, for "Shop ID", look at the link for the neopets shop you want to RS from. At the end is a number, that is the ID number. For grooming it is 5, so that's what I put. Next, hit "Import List" and select your text file. Your list should show up in the box on the left. Hit OK, and then start Abrosia! That's it!