Customization Contest #56
Theme: The Infamous Dumpster Fire Free-for-All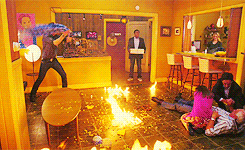 Do whatever the fucking theme you want and follow the goddamn rules.
Starts: NOW!

Entries due: 11:59 PM NST Sunday August 19
Voting ends: 11:59 PM NST Tuesday August 21

Quick rules: Send a link to a Dress to Impress outfit page to me via private messages by the due date.
Please review the full rules here!
Special Rule: After the winners topic is posted, the top 3 winners must private message me what prize they want within the two (2) days of said topic posted. Failure to do so will result in relinquishing their prize. I ain't got no time for your slow and/or inactive ass.

Prizes
The top three each selects one (1) of the following customization items as their prize.







MiniMME4-S2: Cloud of Ghostly Orbs
MiniMME6-S2: Golden Outdoor Background
MiniMME18-S2a: Galactic Traveller Wig
MME18-S4a: Gothic Blossoms Foreground
MME22-B: Glorious Castlegrounds Background
MME2-S1: Mystical Rain Shower
MME5-B1: Mystical Stone Lightning Sword
Award
The first place winner will receive this exclusive award: