That's right, you too can own your very own Mootix Drop trophy, all that's required is a little bit of skill and some free time.
Alright, let's break this bad boy down and make it easy.
Everything in the red squares is important and all you really need to know.
Total Score:
is calculated by how many points that you receive by going through the rings. Each ring is worth 2 points, however, if you go through the center, your points are doubled, so 4 points.
I've found that you don't need to actually go through the center of the ring, you just need to have a portion of your body inside of the black ring that I have expertly added to the picture. It'll take a little bit of practice, but you're going to be able to get a perfect ring every single time without being completely in it, saving you a bunch of time and really racking up the points.
Rings
: This tells you how many rings you've hit out of how many there are. Each level will have an increasing number of rings.
Objectives
: In order to advance through the levels, you need to complete the objectives for each level. The objectives don't change, just the numbers. I.E. 3 rings to pass on level 1, 8 on level 2, etc.
Now that the obvious stuff is out of the way...
This is where the guide to getting your trophy really begins. As with anything, getting this trophy is going to require a little bit of patience, and you are going to have to practice. The good news is that Mootix Drop is actually a pretty fun game to play, and I personally find it very relaxing. Just make sure you turn the music off as it is terrible.
Protip #1: The Barrel Roll
By double tapping the left or right arrow key, you will perform a barrel roll. The barrel roll is the most important aspect of this game, as it will close the gap between rings instantaneously. However, your primary weapon can also be used against you, as you can over-roll and fly right past the ring. If I feel like I'm going to fly past the ring, I like to tap the left/right arrow key just once and then do the barrel roll, as it will land you directly in the middle of the ring 9/10 times.
With a little practice, you too will be seeing consecutive perfect rings because of your professional barrel rollin' skeelz.
Protip #1a: Scoring
For this trophy, you really only need to be on Medium difficulty. This means you have four levels to conquer: Babaa, Warf, Kadoatie, and Gruslen. This is where the difficulty comes in. In order to score high enough to get a trophy, you need to clear the first three levels with a nearly perfect score (Babaa: 20, Warf: 40, Kad: 54+, Gruslen: 64+). I sound like a broken record, but this is where practice makes perfect! As well as getting a perfect score, you must avoid the large circle and land on the smaller ones, as they are worth more points!
IF YOU DO NOT LAND IN THE CENTER OF THE SMALLER TARGET, RESTART!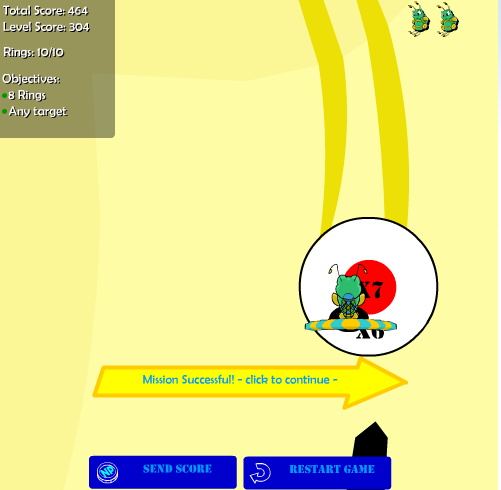 I snapped this screenshot a little bit late, but you don't really need to land PERFECTLY in the middle, you just need to have a portion of your body in it. I was given a x7 score for this landing.
Protip #2: Reset night is your friend!
Reset night is going to make getting this trophy at least 45% easier, as people who have scores of 1,700+ are probably not going to be online going for a trophy they already have. Utilize this time to help yourself! For gold, a score of 1,550+ on reset night is a guarantee. You can and probably will be knocked off of gold, but that just gives you more of a drive to score higher, right?!
Conclusion:
With enough practice and a bit of luck, that trophy right there will be yours! Good luck!
(This is my first guide, if something is unclear, let me know and I will fix it!)