What is Subeta?
Subeta.net is a virtual pet site that is geared towards users ages 13 and over (Yes, you can swear on the forums here, wow!) The main idea of the site is customizing your HUMAN avatar and owning virtual pets which, much like Neopets, you can train, paint, write stories for, etc. On Subeta you can vend/restock, trade, collect, battle your pets, customise, personalize, and so much more! There are daily quests, games, two different lab rays and thousands of items to customise your human avatar.

What are Quests and where can I find them?
Quests, in my opinion, are the best way to earn sP(Subeta Points). You can do 10 quests a day per NPC, if you have a Gold Account (which you should totally get, the perks are unreal), you can do 15 quests per day.
As a new player, the ones you should do first, would be "Sarah's", that will give you some sP to throw on other quests.
The second most important NPC to quest for, is the Wizard, because he will provide you with WT (Wizard tokens) after every completed quest. Those tokens can be used for various things around the site such as dailies, games, and the lab rays.

List of Quests:

Collections, what do?
There are some item collections you can show off on your profile by adding the "details" section. These include trading cards, beanbags, tiles, pumpkins, stickers, and bobbleheads. Once you recieve a collectible, you can add it to your collections via your inventory. This is one of the most time consuming, but fantastic features, on Subeta.
Human Avatars, where can I buy clothes and shit?
So you want your avatar to look sassy, sexy, and sophisticated? No problem, there are thousands of items to choose from! You can buy them for sP in the shops linked below OR you can buy special
CSC
items from usershops, trades, or the Cash Shop!
sP Shops for your avatar:
But wait, what is CSC? Explain this shit.
CSC is a paid for currency. You must use real currency to purchase it but the items, pets, and features, many times are well worth it. You can buy items from The Cash Shop using your CSC and if you'd like, you can sell those items to other users via trades or your usershop. Which means yes, you can buy CSC items using sP, from other users.
What are the pets like and what can I do with them?
Pets are supposed to be the main focus of Subeta, however I really prefer the forums/human avatar aspect. You can choose from a buttload of different species and once you have your pet, you can change their color using many, many, many potions! An example of one is "Spectrum Potion" which changes this Common Chai to a Spectrum Chai: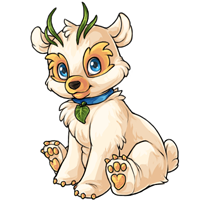 becomes
You can also train your pets and battle them! I am not too keen on this part as I've only just started training my pets but you do get the option to manually train, or autotrain, which costs a little bit extra, but does 24 hours of training for you.
Your pet has a profile, just like you! You can give your pet a minion and special treasure items, which will all appear on it's profile
Achievements, tell me aboot 'em.
There are tons of achievements you can earn for doing various things all over the site. These achievements can be viewed in your dashboard and below your forum posts. Right now the feature is beta testing, so it's a big buggy, but still great! You can find a list of Achievements here:
http://subeta.wikia....of_Achievements
What are your favorite things to do on Subeta, Kate?
Oh me? Wow, well.. I love customising my HA(Human Avatar), hanging around the forums, vending (which is basically like restocking), and looking at all the gorgeous art. HEY ARTISTS @Scrafty @
Turnip
@Puplip or whatever. Did you know you can sell art commissions for real monies on Subeta? Well you do now. Let me tell you guys, there are some absolutely amazing artists on Subeta who will draw your pets, your avatar, or whatever else, and for those artists the market is booming, everybody wants to get their hands on your art.
Kate, I am lazy, can you just link me to some dailies so I don't have to look for them?
Yep here you go:
What is a Gold Account and what do I get with it?
Purchasing a Gold Account will give you a buttload of awesome perks onsite! You can buy monthly subscriptions from the Cash Shop or a GA Medal from Usershops/Trades. There are 1 week medals, 1 month medals, 2 month medals, and on. Getting a one week one is the best way to try and see if you like having a GA.
Some perks of GA include:
* Shop Autopricer
* 15% Decreased Training Time
* Play Random every 1 1/2 Hours
* Access to special Gold Account only forum
* Ability to adopt 5 more pets, for a total of 10
* Help beta test new features!
* 5 Extra of all quests, per day
* A trophy for your lookup
* Play reflection every 2 hours
* Play mind reader 35 times daily
* Can wear another item on each layer of your Human Avatar
* Have another two spots to save your avatar in your wardrobe
* 10 score sends per day in Spectrail
* No advertisements outside of the forums
* Total of 10 inventory locks
* Double vending
There is so much more to Subeta than just what I mentioned above, if you take the time to find out for yourself, I am sure you won't regret it. If you decide to sign up
Please PM me and use my username as your referrer lol.
Codex people Subetan style:
The girls of TC - @

Jess

@

onlyme

@

Kat

@

Emily

@

Rocket

and @

Padme

@

Trichomes





Past Event: MOROSTRIDE 2015