A guide to making quick and easy NP with the trading post!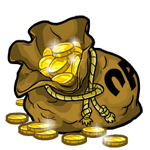 This is NOT a get rich quick guide, or a guide for trading UBs. It is a guide for a surprisingly effective method of trading for low-end ETS and making legitimate profits. Depending on your familiarity and timing, you will most likely make somewhere between 25-200k per hour with this method!


1. The Basics

a. Have your own shop. Make sure it can fit a minimum of 10 items.

b. Have access to an online calculator.

c. You can use the JellyNeo database for pricing help, although the shop wizard is much more accurate.
--> http://items.jellyneo.net/
Hint: If you type in "codestone" or "dubloon" in the database and select sort by "release" then the actual codestones and dubloons will all be organized together making pricing easier.

2. Strategy

(a.)
The general strategy here is to browse the newest 20 items in the trading post. When you see low-end ETS, you offer an amount of Neopoints that is slightly below what the lot would easily sell for in your shop.

You will need to be familiar with the lowest price of the items so you can do quick math and make an offer that is guaranteed to return a profit. You also should avoid your offer being too low because possible competitors may out-compete you.


Below is your average great profit making lot and the strategy in use.
Since you need to make profit, the next picture will show the same lot but with my offer rather then est value.


3,800 NP may seem like nothing, but considing that you only need to spend a matter of seconds offering on each lot. 3,800 NP every 30 seconds for an hour equals 456,000 NP and this is why rapidly offering on low-end lots can make lots of NP!
(b.)
The "before the ," estimation technique.
This is a very quick and effective estimation technique useful for offering on lots with more than one item. This allows you to finish your math before others while at the same time making great profit. For this example I will use codestones. First you need to know what number(s) comes before the "," ​in an items approximate value.
So for a Tai-Kai Codestone it's "before the ," number is 3 according to it's current value. Now the trick is to get the number for each item in a lot and add the numbers together. Using this, if someone's lot of codestones results in the number 30 it's estimated value will be 30,000 NP. This estimation technique assures you profit even if you offer the estimate. The even better part is that you will be offering quicker than most since this makes the addition so simple, so it is a win-win.
Example below.
3. Tips and Fun
a. Don't be afraid to withdraw an offer if the owner of the lot isn't accepting. If they don't accept in the first 30 minutes withdraw and use those NP to offer on a different user's lot.
b. The lots with multiple items are best because the owners most likely don't want to do any math etc and will quick accept any decent offer.
c. As soon as you sell your old loot, withdraw the profit from the shop till and start offering on more lots which creates a high profit cycle.
d. Once you are getting familiar (should take less than a day) you can listen to music, sing, talk or whatever to pass the time and have even more fun. This type of trading can be a very relaxing break from a long day at work!
e. Generally if you are offering on codestones it is good to offer 100-1000 lower than estimated value for each.
f. I used codestones for examples but for maximum profit/fun it helps to have a list for different categories. Neggs, dubloons, map pieces, scratchcards, and cheap paint brushes are great!
Feel free to ask me any questions!
Spoiler below contains a few screenshots from a nice day of trading!
Spoiler
Edited by masxed, 03 November 2014 - 08:12 PM.