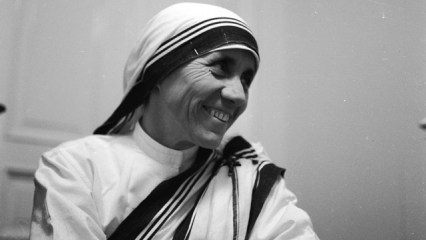 To anyone unaware of this, Mother Teresa was canonised today by Pope Francis.

For some religious people this women is a Saint, dedicated her life to help the poor, sick and dying through the congregation she founded in 1950 Missions of Charity. According to her Wikipedia page "By 1996, Mother Teresa was operating 517 missions in more than 100 countries."
But to anyone that dig into her life more may find some discrepancies in her vision of how the poor, sick and dying should be helped. Despite the fact that her Missions of Charity received monetary donations from all over the world to help its cause, it's a known fact that Teresa systematically refused giving treatment to the ones in need, and food to the ones starving, as well as perpetuating the poor conditions in the charity houses for the dying ones, stating that suffer must be taken as a gift of God.
On the other hand, when she found herself suffering from her second heart attack in 1998, she received a pacemaker. In 1996, after the failure of the left ventricle, she had another heart surgery. Not practicing what she preach about accepting the suffering and going as far as being hypocrite for seeking treatment for her conditions when she was refusing basic health care to the "poorest of the poor".


She's also well known for the miracles she, allegedly, preformed after her death.
The first one was on a woman from Bengal. One year after Teresa's death, Monica Besra was living in a charity house from the Missions of Charity, for being a sick women suffering from an abdominal tumour. But she was miraculously cured when, after feeling "a beam of light emanating from a photo of Teresa" the sisters from the congregation put a locket with Teresa's pic over Monica's waste and prayed. The morning after, Monica was tumour free.
However, medical staff that had been treating Monica for almost a year was firm in their statements saying she was not suffering from a tumour but a cyst, and the medication she was taking was the cause for the cure.
"Besra's medical records contain sonograms, prescriptions, and physicians' notes: Besra has claimed that Sister Betta of the Missionaries of Charity is withholding them. The officials at the Balurghat Hospital where Besra was seeking medical treatment have claimed that they are being pressured by the Catholic order to declare the cure a miracle."

The second miracle occurred in 2008, when Marcilio Andrino, a man from Brasil suffering from multiple brain tumours was declared cured when the doctors noticing his tumours receding, after Marcilio and his wife prayed to Teresa.
Unfortunately there's not much about this case (or I didn't search for the right key words lol), but in some websites we're told that it were multiple tumours, in some others it was a (non identified) brain infection that was treated with antibiotics. As usual, with things related to miracles, the truth is not always clear.


So, I want to read your opinions about this, whether you are Christian or not. Do you believe Teresa was a good person and did what she could with what she was given or, do you believe it was one of the best Catholic marketing stunts of the 20th century?




It goes without saying, but please, be civil and respectful of others' opinions.