So in the News for 7th October we get this little lovely information....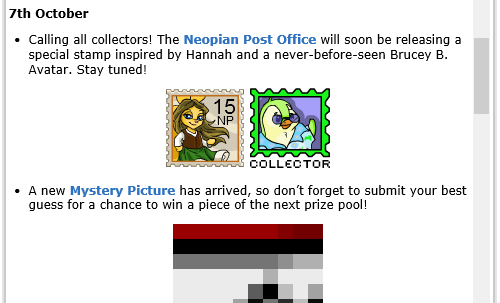 Firstly we have a new stamp (not released yet) but gerneral consensus is that it is R99 and will be put in Other II.
Stamp:
Hannah Stamp

Avi:

As for the avi it is unknown but again generally people feel with the new stamp making Other II to a count of 25 that this will be the section that gives the avi and as such stamps in this section have been massively rising in price.
The priciest of which is:
3D Camp AAA Stamp

This final prize was awarded for participating in Daily Dare in Y15.
When this stamp was originally given out it went for 4m then of late rose to 8m now it is commanding prices of 15-20m. If it was me I would not sell as if it turns out Other II gets the avi then this stamp will rise even more but if you want a quick buck go sell now as the boards are crying out for 3ds.