Codex Conundrum #3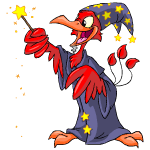 It's the forsaken Lenny Conundrum except now only available to Codexians. Remember the times when you sat staring at the Lenny Conundrum contest page, hoping, just hoping some form of divinity blesses you with an epiphany that answers a question from a children's pet site. It was of the darkest times.
It's exactly like that, except on Codex.
Starts: Now
Deadline: December 28, 2018 11:59 PM Neopets Standard Time
Rules:
Prize:
The Puzzle:
In the last puzzle none of you were on my trail. Let's switch gears and get on the right path.
For your convenience, I've separated the artworks into three different images.
| Image #1 | Image #2 | Image #3 |
The Answer:
Good luck.