1
Year Two: Mental Break Down Time
Posted by
KaibaSama
, 26 October 2016 · 1,713 views
fuck calc
mental break down
too many kylo gif
Our professors can set up "beacon alerts" for us to tell us we're failing a class or close to failing. I just got one from my shitting calc professor, saying that I had a D-. I calculated my grade just last night, out of 400 points we've had so far (55/100, 53/100, 95/100, and 88/100. Explain to me how that adds up to a D-). , and got a 72%. I was confused, until I remembered that his crazy grading scale sets a 72% at a D- instead of a C- like it normally is. He told me to come to his office hours. Well, I would, but if he can't explain things in class, he won't be able to explain them one on one. His teaching style isn't going to magically change between in class and one on one. When he was teaching limits, he explained using cake for two hours. Apparently, if you have enough cakes, no one gets any cake. I'm not kidding, that's exactly what he explained limits as for 2 whole hours. I'm waiting for him to explain something else using cupcakes. I've been looking for a tutor, but the downside of a small branch campus is that there aren't any. I kept getting emails saying the learning center found one, but then nothing after. Turns out, all the calc tutors were quitting. Now I've got one that hasn't quit officially yet, but he hasn't' sent in his application that's needed to start the training for him to tutor me. I've been looking for a tutor for this awful class since the 2nd to last week of September! It's been a month now with nothing! So I decided to transfer to our main campus next year, but if I fail my classes, it's not going to look good for the transfer, and I could be stuck here for another 2 years! I even cheated on my first exam and got a 53%! Usually cheating helps raise your grade, because you have all your notes and everything to help. When even cheating doesn't help the grade, there's something wrong with the Professor, not the student!
I even got an 88/100 on the last homework when I used online derivative calculator to do it that had all the work and the correct answers! It's not a problem with me, it's a problem with him, his grading and his horrid teaching style.
And on top of that, my calc class is full of Freshman who think they're just oh so great for getting into calc 1 instead of Algebra like Freshman usually do. I had one girl who didn't get anything like me, then suddenly she gets it and starts acting high and mighty. "If i give you the answer to the worksheet, how will you learn?". Like she wasn't having just as many issues as me a week ago! It's like she's never heard of working backwards! You get the answer, then work backwards to understand the work needed to get there!
Stupid freshman. I thought there were two limits at the start of the learning about limits and a minute later I hear two of them go:
"Can you believe she thought there were two? How'd she even get in this class? Maybe she's disabled? (as in mentally). Maybe she slept with someone? (I'm a virgin)." And then they go on to comment about my shorts. Which ride a bit high when I sit down (kind of into my crotch a bit). Why are they looking down there anyway?
If I still had my sword that I bought at our renaissance faire, my calc professor wouldn't have a head anymore.
I want to go to medical school, but I'll never get in if it shows that I failed a class as a sophomore. As a freshman it's more accepted because you're just adjusting to college life and such.
On a second note, I also had a "beacon alert" for Organic Chemistry One. I failed our first test, but got a C on the first quiz. We have another quiz in a week and a half and I'm going to study my ass off. Plus, I now have my molecular modeling kit, which will help. (We can use them on our tests).
I don't know what I'm doing anymore. I usually exercise by running a mile and maybe some core work from 2-3 in between two of my classes, but all I want now is to hide under my bed eating a giant chocolate bar. And I'm also debating skipping calc tomorrow but he gives points for attendance. Yes, he takes attendance in college.
On a happier note: This puts me in the right mindset to finally continue that story I was writing on the plane back from my grandma's birthday.
Me in calc: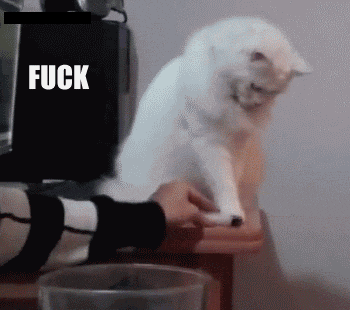 How I feel today:
As you can tell I'm pissed and depressed.